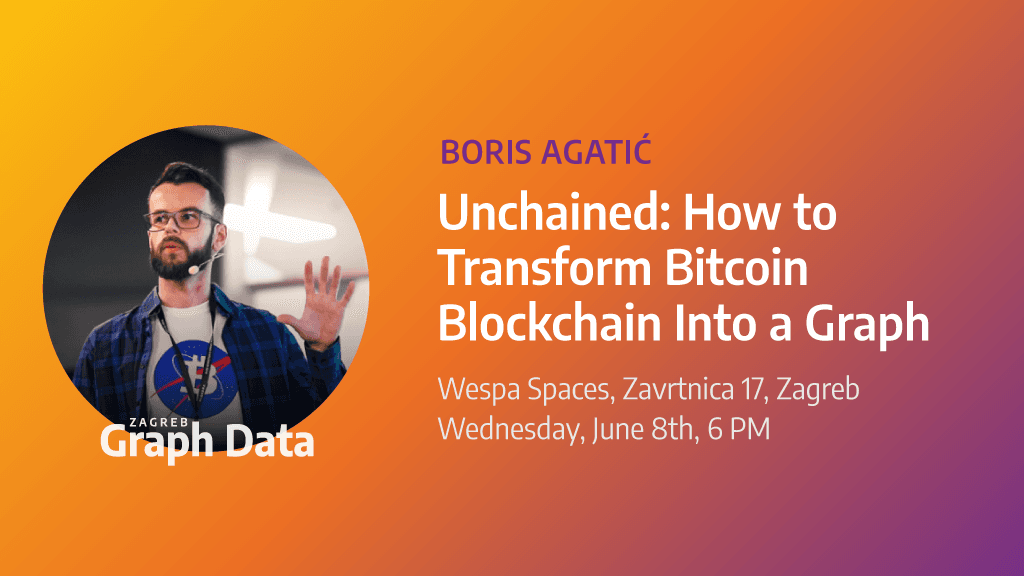 Graph Data Zagreb 4 "Unchained - How to Transform Bitcoin Blockchain Into a Graph"
By Zeljko Riha May 16, 2022
We can't believe that we are already heading to our fourth edition of the Graph Data Zagreb meetup that will be held on Wednesday, June 8, 2022, from 6:00 PM CEST. The meetup location is, as always, WESPA Spaces, in Zagreb.
Graph Data Zagreb has already gathered almost 200 graph and data enthusiasts who regularly visit our meetups. We are really happy about it, and if you want to read more about these events, check out what happened on the last Graph Data Zagreb meetup summary.
The topic of our next meetup is "How to Transform Bitcoin Blockchain Into a Graph!" where Boris Agatić will talk about the possibility of analysis of all Bitcoin transactions because they are publicly available and easily accessible in real-time. With the help of the graph database, Boris will transform the Bitcoin ledger to explore the decentralized distributed payment network.
Don't forget to click ATTEND to confirm your attendance at our next meetup.
After the talk, there will be drinks, burgers and networking opportunities. See you!
About the speaker:
Boris Agatić is a data scientist and tech entrepreneur. His areas of interest include IT systems maintenance, artificial intelligence and machine learning, systems administration, digital marketing, web and user experience design, web and software development, and education. Since 2010 he has specialized in web development, and for the last five years, he has specialized in blockchain technology and artificial intelligence. He holds workshops and educates participants on cryptocurrencies, blockchain, and smart contracts.
Still not a member of the Graph Data Zagreb group? Become one and keep track of the upcoming events! Also, tell us what you think - would you like more talks or workshops, and which topic would you like us to cover more? We are also hanging out on Discord, so feel free to join.