We're building
the future of graph computation
We believe in a future where the problem solving power of graphs is in the hands of everyone.
We're venture-backed
"Memgraph makes it possible for smaller organizations to go from "data overwhelm" to profitable insights. Analytics capabilities that were once exclusive to tech giants are now accessible across industries with Memgraph."
Matthew Goldstein, M12 Managing Director
We strive to think differently, build solutions and focus on what really matters
Frustrated that existing graph database systems were not engineered with performance in mind, Dominik(right) and Marko(left) were determined to overcome the limitations of current solutions with a state-of-the-art, high‑performance, and scalable graph database. Over the years, Memgraph expanded into a whole platform and now focuses on graph computations on streaming data. In 2022, Memgraph celebrated its 6th year, and our founders looked back to the exciting journey in a short video.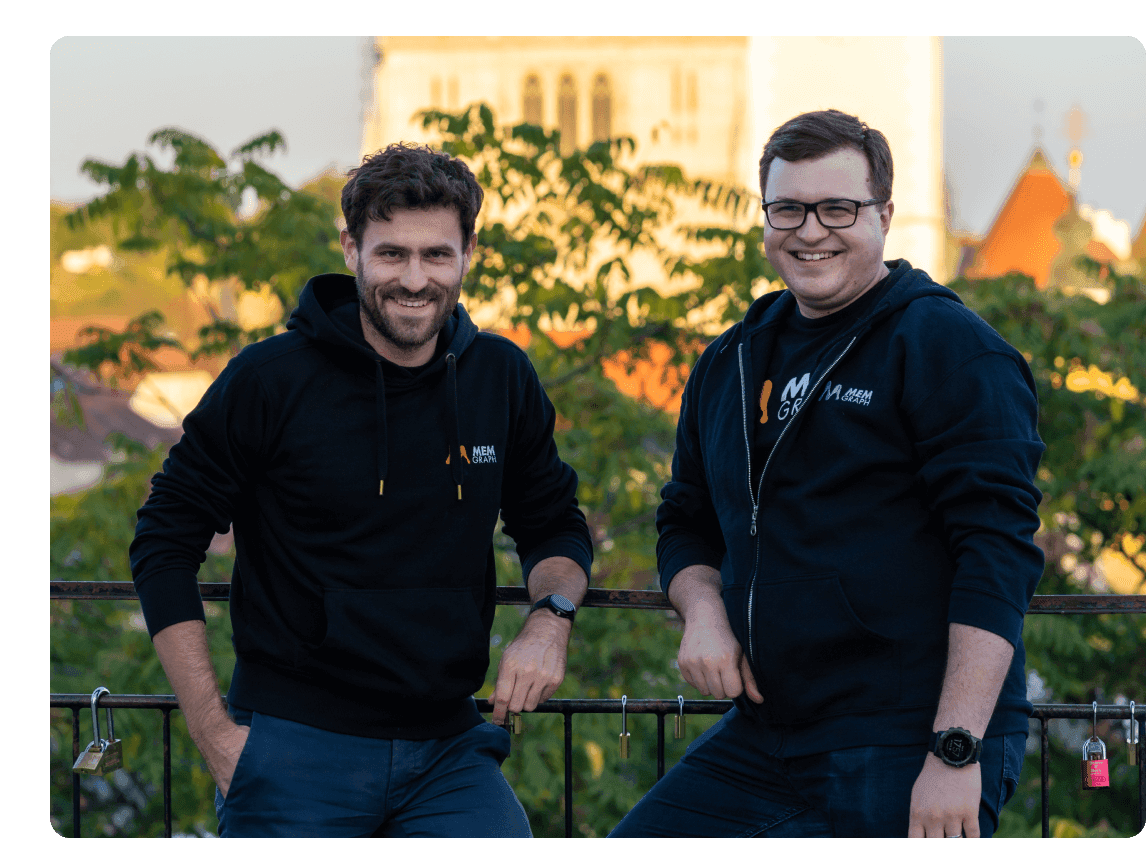 Our journey
May 2016
Memgraph is born!
February 2017
Started forming the engineering team in Zagreb, Croatia, and spent the next two years building the first-its-kind, in-memory graph database from the ground up.
June 2020
Became remote first and started hiring across Europe (thanks, Covid).
September 2021
Organized the first company retreat.
March 2022
Started with Graph Data Zagreb meetups dedicated to all graph enthusiasts.
December 2016
Closed $2.3M seed round led by Connect Ventures and Counterview Capital.
May 2020
Launched the first publicly available and production-ready version of Memgraph 1.0 and Memgraph Cloud.
November 2020
Secured $6.7M in a second seed round led by M12 Microsoft Venture Fund, with participation from HeavyBit, In-Q-Tel, Counterview Capital, and Mundi Ventures.
October 2021
Launched a source available version of Memgraph 2.0
The foundation that drives us to build world class products starts with
our values
.
Communicate openly and often
We believe that clear communication is the bridge between each other, our communities, our users, our customers and the market.
Build relationships, not edges
Individually we are all able to take big steps forward, but collective effort and mutual support is what will take us to the top of the mountain.
Learn every day, lead the way
A day is not complete without learning something new or teaching others. Even failure is another lesson learned and another step forward.
Invent with intent
The path of invention is defined by those using it so we always ask 'why?' and listen carefully to find insights in the answer. We want to move the needle.
Ready to join our team?
We are always looking for new talents. Take a look at our open positions.