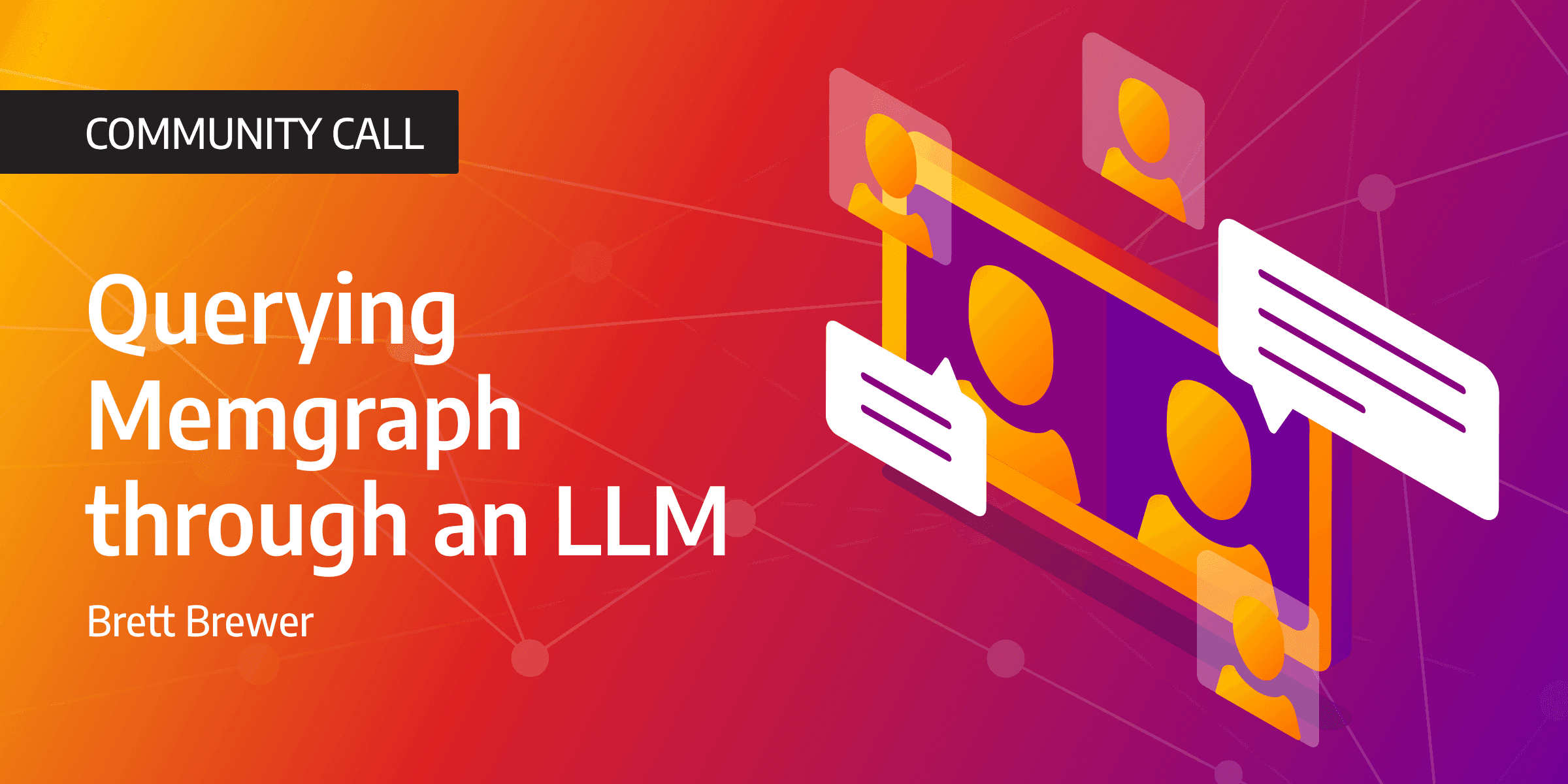 Memgraph Community Call: Querying Memgraph through an LLM
By Katarina Supe June 30, 2023
Announcements
Memgraph has organized its fair share of community calls to bring its community closer together and spread knowledge about important topics related to the graph database world. Attendees had the opportunity to meet the Memgraph team and talk with them about new features or their day-to-day responsibilities. They also had the chance to take over the stage and talk about the projects they worked on.
We are looking forward to many calls like this, and it proved to be great to have an open channel of communication directly with the Memgraph community to hear the most honest feedback about the product and experiences with building their products using graph databases.
In case you missed our community calls and want to catch up before the next one, head over to Memgraph's YouTube channel.
Memgraph entering the world of LLMs
On July 7th, at 6 PM CEST, Memgraph is organizing the next community call on Querying Memgraph through an LLM. Our guest speaker is Brett Brewer, who has broad experience as a chemical engineer in industrial process automation and who has been a VP at Microsoft throughout his 25-year long career there. Now retired, he found a new way to have fun - he jumped into the AI rabbit hole to expand his knowledge and contribute where he can. That's how he connected with Memgraph and gave us an idea to integrate with LangChain. That was not an easy task, but not to spoil too much, join our community call to hear and talk all about that journey!
Hang out with the community
To wrap it up, if you want to stay in touch with the Memgraph community, set up a reminder for this and similar events – join our Discord server! We try our best to keep the community engaged, questions answered, and every community member listened to.
Once again, here are the community call event details:
Topic: Querying Memgraph through an LLM
Speaker: Brett Brewer
Date and time: Friday, July 7th, 6 PM CEST
Zoom link: https://us02web.zoom.us/j/84734174129?pwd=aGtkc0UwVm10L3Qva2VveU01U1ozdz09
Hope to see you there 👋😀