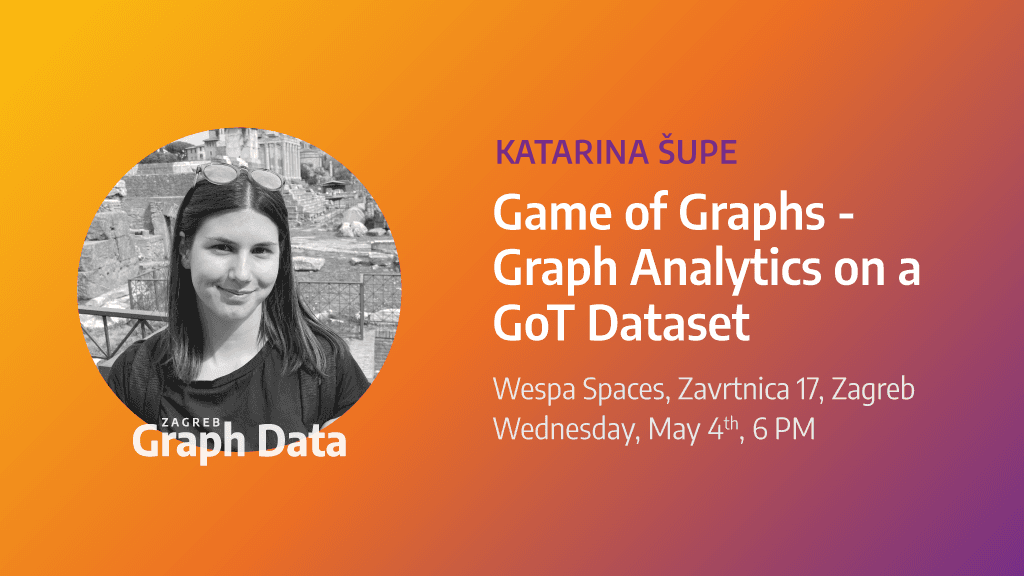 Game of Graphs - Graph Analytics on a GoT Dataset
By Ivan Despot April 22, 2022
Graph Data Zagreb
Time passes quickly, and it's already time for the third edition of the Graph Data Zagreb meetup! If you still haven't heard about it, it's a group for graph enthusiasts that aims to offer a place for graph lovers in Croatia to hang out and discuss interesting topics from various fields.
The next in-person meetup will be held on May 4 at 6 PM CEST in the coworking space WESPA Spaces in Zagreb, Croatia. We decided to mix it up this time and make it more educational. The speaker is a Developer Relations Engineer from Memgraph, Katarina Šupe. She sees the graph world as the future of data analytics due to the variety of algorithms that can be used to analyze static and real-time data. Katarina presented at quite a few virtual and in-person meetups recently, and this is the perfect chance to share her knowledge and experience with our local community.
Katarina will hold the talk: Game of Graphs - Graph analytics on a GoT dataset. She will explore a Game of Thrones dataset that contains all the deaths from the iconic TV show. Using graph algorithms and graph traversals, you can find out which characters were responsible for the most deaths, which locations and seasons are associated with them and how various characters are connected.
Find out more about the talk at our meetup page, and don't forget to RSVP!
Still not a member of the Graph Data Zagreb group? Become one and keep track of the upcoming events! Also, tell us what you think - would you like more talks or workshops and which topic would you like us to cover more? We are also hanging out on Discord, so feel free to join.