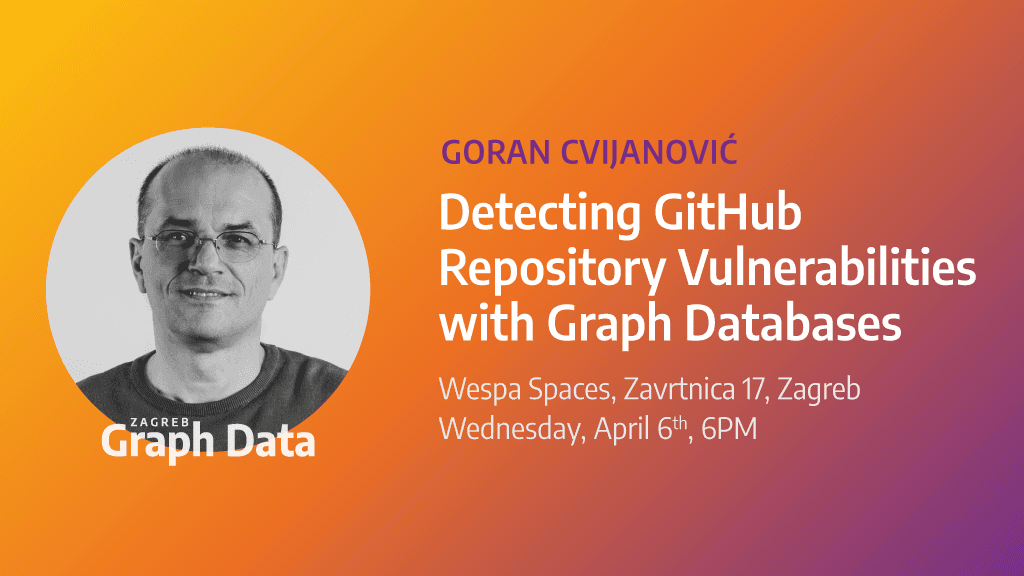 Detecting GitHub Repository Vulnerabilities With Graph Databases
By Katarina Supe March 22, 2022
If you still haven't heard of Graph Data Zagreb, a group for graph enthusiasts, now is the time! The group gathers all the graph databases, algorithms, and application lovers and provides them with a setting for casual conversations and exciting discussions. That is the perfect chance to learn more about graph-based technologies.
On April 6, at 6 PM CET in WESPA Spaces in Zagreb, Croatia, the next in-person meetup will be held. Our speaker is Goran Cvijanović, a senior software architect with 20+ years of experience in information technology with more than 15+ years in database systems integration, migration, and tuning. He is an Oracle and Microsoft database specialist and worked on open source database technology selection, deployment, integration, and optimization.
He will talk on the topic Detecting GitHub Repository Vulnerabilities with Graph Databases. Wondering what it's about?
When the log4j vulnerability CVE-2021-44228 exposed many Java servers to possible exploitation, companies and engineers were looking for a solution to check whether their software was exposed to the vulnerability. This is where graph technology shines! More about the talk can be found in the event description, but we recommend you click the RSVP button and learn about this topic in person. 😊
Still not a member of the Graph Data Zagreb group? Join us and keep track of the upcoming events! We are also hanging out on Discord, so feel free to join us there too.